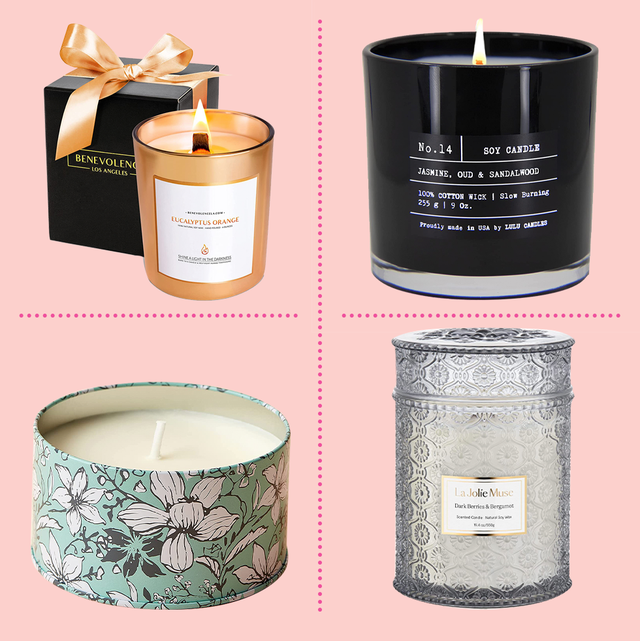 Courtesy
Create a soft glow and fill your home with soothing scents — whether you prefer fresh florals, clean aromas or rich, earthy notes. When shopping for candles, there are hundreds of brands, aromas and designs to choose from. You may be looking for a scented candle that's minimal and affordable, a non-toxic option that's been hand-crafted from a small business, a luxury candle that doubles as home decor — or a versatile pick that hits all of the marks. We've rounded up the best candles on Amazon, including options from top brands like Yankee Candle and WoodWick, as well as smaller companies that have earned thousands of five-star reviews.
If you're like me, you believe every space needs a candle. Set a romantic vibe in the living room, create ambient lighting in the bedroom, remove food odors in the kitchen or give your home office a comfortable, cozy feel. With so many options available on Amazon right now, you're sure to find something that elevates your home design. Keep scrolling to find a vintage-inspired apothecary jar candle, a floral tin candle and an embossed glass jar design with a lid.
The only downside? Candles can quickly become expensive. That's why we've included cheap finds that don't sacrifice quality. Scroll these best-selling candles, which start at less than $5. To ensure you find a favorite, we included a combination of paraffin and soy wax candles.
Advertisement – Continue Reading Below
1
Amazon Reviewers Are Raving
Yankee Candle
Vanilla Cupcake Candle
2
If You Love Light, Fresh Scents
Chesapeake Bay Candle
Balance + Harmony Candle
3
For Campfire Vibes
WoodWick
Fireside Hourglass Candle
4
Ideal for Removing Odors
Dianne's Custom Candles
Vanilla Bean Soy Candle
5
Elegant Candle for a Good Cause
Benevolence LA
Eucalyptus Orange Scented Candle
6
If You Love Rich Scents
NEST Fragrances
Birchwood Pine Candle
7
Best for a Neutral Home Aesthetic
Lulu Candles
Hand-Poured Soy Candle
8
Great Gift for Men
Craft & Kin
Whiskey Caramel Candle
9
The Perfect Personalized Present
Homesick
Homesick Scented Candle
10
Best Candle for Elevating Home Decor
LA JOLIE MUSE
Fig & Coconut Scented Candle
11
Display a Sophisticated Silhouette
Capri Blue
Capri Blue Scented Candle
12
Best Vintage-Inspired Candle
Paddywax
Apothecary Candle
13
Smart Pick for Kitchens
MRS. MEYER'S CLEAN DAY
Lavender Soy Tin Candle
14
AFFORDABLE LUXURY
LA JOLIE MUSE
Dark Berries and Bergamot Candle
15
Choose From So Many Scents
Bridgewater Candle
Sweet Grace Soy Wax Blend Candle
16
Best Nature-Inspired Scents
CoCo Benjamin
Basil, Lime and Mandarin Soy Candle
17
Creative Yet Versatile Gift Idea
WuNa
Constellations Scented Candles
18
Designed for Pet Owners
Gerrard Larriett Aromatherapy Pet Care
Lavender and Chamomile Deodorizing Soy Candle
19
Most Affordable Pick
Glade
Air Freshener Candles
20
Best Flameless Candle
Eywamage
Glass Flameless Candles
Advertisement – Continue Reading Below
link