As someone who grew up in a small town with the closest mall almost an hour away, I didn't discover Anthropologie until later in life (probably a good thing for my wallet TBH). But don't worry, I've made up for lost time by purchasing every home, beauty, and clothing item I can afford and mentally adding the entire kitchen section to my non-existent wedding registry. What? A girl can dream.
As much as I love Anthropologie, however, I don't always love their prices. So when I want to get a similar look at a more affordable price, I turn to Amazon. You might be surprised by how much Anthropologie-inspired home decor—ranging from pillows and throws to kitchen and dining items—you can find on Amazon for a fraction of the price. That's right, you no longer have to shop in the sale section or break the bank to decorate your home in Anthro's signature boho-inspired style. Keep scrolling for some of my favorite Amazon home decor finds that give you the same look for less (and two-day shipping!).
Decor & Lighting
Amazon
Antique Gold Wall Mirror
The Gleaming Primrose Mirror is one of Anthropologie's most viral products and for good reason. The vintage-inspired design and intricate details make it a beautiful addition to any room, but starting at $548, it'll cost you a pretty penny. There are several similar designs out there, but none are quite as good as this option from Amazon. The details and color options are nearly identical to Anthropologie's but at less than half the cost.
Amazon
Grecian Bust Candle
Grecian busts have been a popular motif at Anthropologie for a while now, mostly in the form of their Grecian Bust Pot. These pots work beautifully as planters or vases, but if you don't have a green thumb, you may want to opt for this Grecian bust-inspired candle from Amazon instead.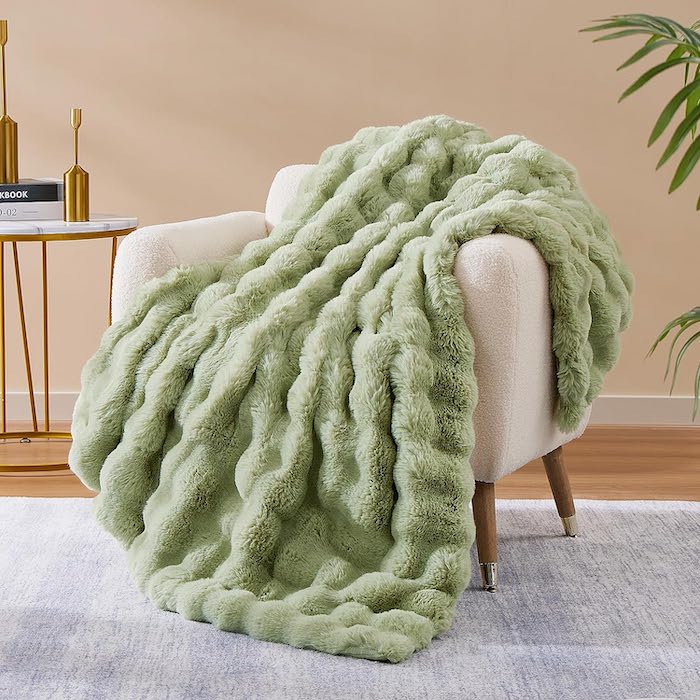 Amazon
Faux Fur Throw Blanket
Every winter, Anthropologie brings out their line of ultra-plush faux fur throw blankets. Not only are they a great item to give for the holidays, but they also make any room feel extra cozy. However, most of their throws cost well over $100, which is a little steep if you're buying them for multiple people or more than one room in your home. Thankfully, Amazon has this similar version for half the price.
4 colors available
Amazon
Woven Pendant Lamp
In the words of Chandler Bing, could this BE any more beautiful? The woven details make this pendant look so luxe that no one would believe it's only $140. Bonus: natural materials like wicker, rattan, and cane are popular right now thanks to the "tropicalcore" trend, and this light fixture is the perfect addition to bring some vacation vibes into your home.
Amazon
Velvet Throw Pillow Covers
Soft velvet and bold colors are hallmarks of Anthropologie textiles, so these pillow covers fit right in with the brand's eclectic style. While these covers don't come with pillow inserts like they would at Anthropologie, you do get a set of four for only $32, which is a steal.
10 colors available
Amazon
Brass Snail Figurine
One of my favorite things about Anthropologie is their selection of small but impactful decor pieces. I actually saw a snail figurine similar to this one at Anthro several years ago, and I've been kicking myself ever since for not buying it, so I'm glad to see a similar version available on Amazon. These snails would look absolutely adorable styled on a shelf or as paperweights on your desk.
Amazon
Floral Flush Mount Light Fixture
With feminine, delicate details, this light fixture looks like something straight out of an Anthropologie catalog. Imagine it hanging in an elegant entryway, a stylish bathroom, or airy guest room. The best part? It's less than $60.
Amazon
Tufted Runner
Something I'll never understand is why rugs are so expensive. Even the smallest size can cost hundreds of dollars, but this Amazon runner gives the Anthropologie look for much, much less. At less than $40, I'll definitely be adding this to cart for my kitchen.
5 colors available
Amazon
Boho Tufted Accent Pillow Cover
Add some texture to your couch or bed with this Moroccan-style throw pillow cover. Handwoven tufted accents give the cover a sophisticated look, and the thick and durable fabric give it a high-quality feel.
Amazon
Wooden Bowl Centerpiece
If a hand-carved wooden bowl doesn't scream boho-chic, I'm not sure what does. Pieces like this are great to have around the house for a variety of purposes. Style it on a coffee table with a candle and coasters, use it was a fruit bowl in the kitchen, or keep it by the front door as a catchall for your wallet and keys.
Amazon
Woven Blanket
Woven blankets are another boho-style staple, and the colors and tassels on this one are what dreams are made of. Its lighter-weight fabric also makes this one easy to style over a chair or at the end of a bed.
10+ colors available
Kitchen & Dining
Amazon
Fluted Ceramic Bowl
Another one of my personal favorite Anthropologie items is their Amelie Latte Bowls. I use mine almost daily to serve meals or to hold ingredients while cooking, and I love the French-inspired look of them. While these bowls aren't that expensive in store, there is a slightly cheaper alternative available on Amazon for those who love a good deal.
4 colors available
Amazon
Ceramic Berry Baskets
With the grandmillennial trend still going strong, quirky, vintage-inspired pieces like these berry bowls are especially popular. Not only are they functional in helping you keep your fridge more organized, but they also add a fun whimsical touch to your kitchen.
3 colors available
Candles & Candlesticks
Amazon
Twisted Candle Sticks
For a trendy take on the classic taper look, try these twisted candles. They come in tons of different colors, so grab a four-pack of your favorite shade to re-create Anthropologie's funky style for less.
10+ colors available
Amazon
Ribbed Glass Candle Holders
These ribbed glass candlestick holders are a mix of boho and vintage, making them a beautiful addition to any tablescape. Each set comes with six candle holders in three different sizes and styles. Pro tip: mix and match the colors to create a more customized look.
4 colors available
Amazon
Candle Warmer Lamp
I've seen so many gals on TikTok showing off their candle warmer lamps as part of their nighttime routines, and you can consider me influenced. I love the quirky look of the scalloped shade paired with the vintage look of the brass and wood base. And at just $20, this is an affordable way to create a cozy atmosphere for fall.
2 colors available
Amazon
Rose Quartz Coasters
Anthropologie's Gilded Agate Coasters are another one of their signature items. I have these in almost every room of my house and often give them as housewarming or Christmas presents. Although the coasters are stunning, they're a little pricey at $16 a piece, which is why I was excited to find that Amazon sells this set of four natural gemstone coasters for only $40.
Amazon
Monogram Mug
If you're unfamiliar with the mug section at Anthropologie, I encourage you to run not walk to check them out. They have a fun selection of monogrammed, floral, and geometric options, but if you're looking for a more affordable alternative, this mug gives Anthro vibes at an Amazon price.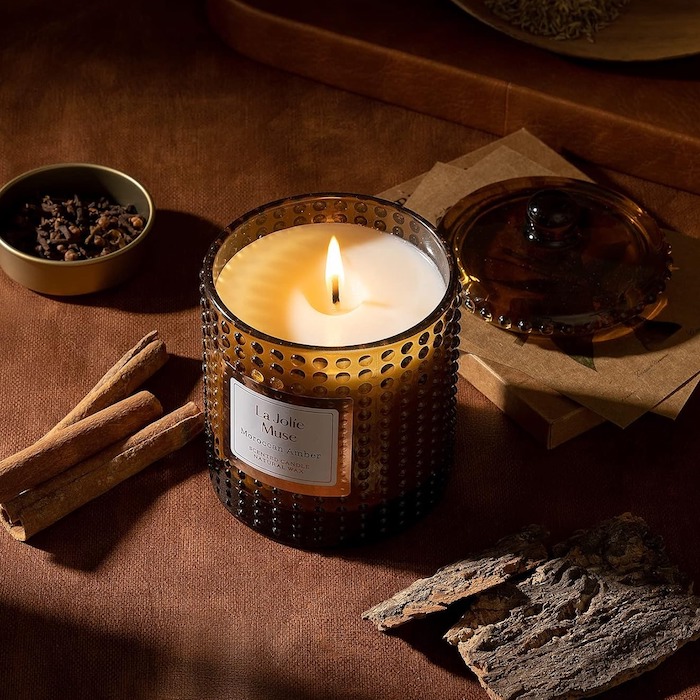 Amazon
Lidded Glass Jar Candle
Anthropologie is famous for their candle section, and this glass jar candle looks just like something you'd find in-store. It comes in a variety of colors and scents, but the best part is that it's paraben- and paraffin-free.
7 colors available
All the Decor You Need to Get the Cottagecore Look This Fall