It was the worst winter ever for Bruce Allen. The former fine-art photographer was coming off what he calls a "huge L in life."
He'd launched a pop-up art gallery and event space in Brookland in the summer of 2021, but just as it was getting popular, the city shut it down over permit problems. Then the Omicron wave hit. The "panoramic"—he hates the word pandemic—seemed like it was never going to end. To pay rent, Allen found himself working as a bartender at a newly opened French restaurant in Dupont Circle called Duck Duck Goose.
Enter The Influencers—the Instagrammers and TikTokers fashioning themselves as the new tastemakers in DC's food scene. The whole staff always knew these VIPs were coming. They got the best tables with the best views and the best lighting. The kitchen sent out free Burgundy escargots and tomahawk steaks, and Allen would have to make sure their cocktails were super on point. They were treated like royalty.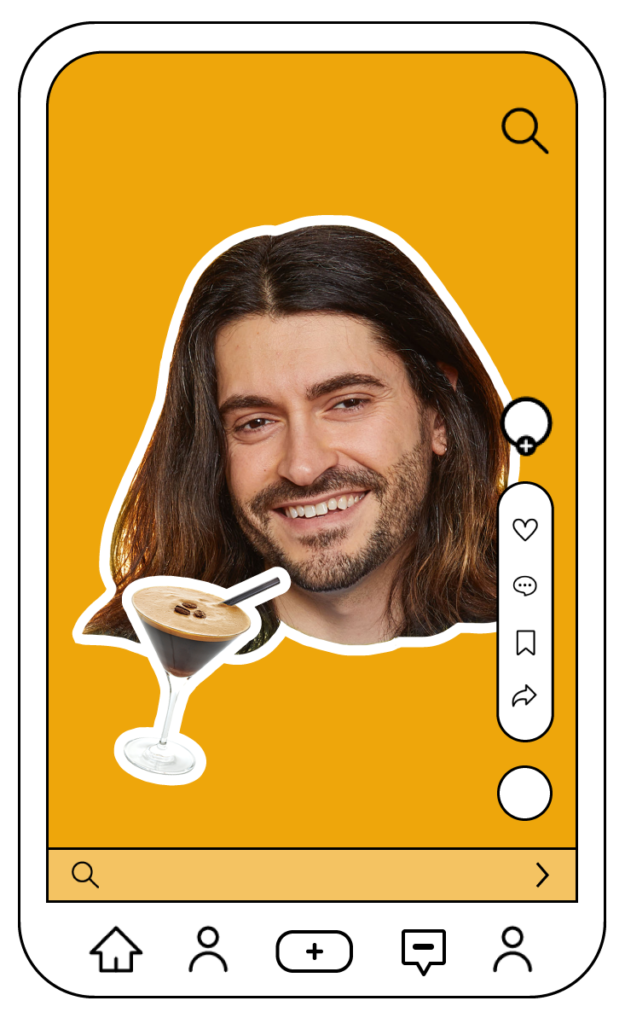 One quiet Wednesday, Allen figured he'd try to drum up business on his own. He invited some cute Instagram blondes to the bar for free espresso martinis in exchange for some reels. His managers were pissed he was giving away drinks, but one of the videos took off. Allen says he suddenly found himself making 30 espresso martinis a day.
He knew social media was powerful, but he also found most of these foodie accounts kind of cringey. He figured he could do what they did. Heck, he could do it better. He'd been getting more into cocktails and biking around town to try different bars on his days off. So in April 2022, he launched Drinks in the District on TikTok, documenting sticky dive bars and swanky nightclubs in his own Bourdain-bro style.
He eventually started posting daily TikToks and used his newfound platform to throw his first event: a happy hour that attracted 250 followers IRL. Allen didn't make any money from it, but he knew he could. Shortly after, with 10,000 followers, he quit bartending to make TikToks and host parties full-time.
There was the roof-top Super Soaker bash where a boozed-up crowd sprayed water and Champagne guns. Nicki Night with Minaj tunes and twerking. Cuffing-season mixers with speed dating and onsite matchmakers. Each event was bigger than the last, sold out, and typically enough to cover a couple months' rent. He dated someone he'd met in his TikTok comments. A Michelin-starred restaurant invited him to its $155 cocktail "experience," fully comped. Clubs were giving him free tables and bottle service with half-­naked girls blasting sparklers and waving lit-up drinks in the district signs. Royalty, baby.
@drinksinthedistrict 2022 was one of the best years of my life. Thank you for all of the support. 🫶 #newyears #dcnightlife #divebar #livemusic #washingtondc ♬ Energetic Instrumental Rock – RocknStock
Allen sold merch: I'M WET (FROM PARTYING WITH DRINKS IN THE DISTRICT) crop tops. He started a Facebook group called Drinking Buddies that amassed 1,200 members in its first three days. He hired part-time employees for events. He wrote an e-book—an e-book!—about where to go out in DC. (The description "lit" appears 13 times. He sold more than 200 copies of the 33-page PDF for $20 a pop.) The 32-year-old, rocking a Salt Bae–slick man bun, is now a full-time influencer—part of a booming new generation of online personalities toasting, posting, and cashing in on our desire to know where to go out. And just to be clear: He's been doing this for less than a year.
---
---
---
It used to be that anonymous newspaper critics were the trusted, almighty arbiters of where to eat. Then came bloggers and Yelpers and Instagrammers, democratizing restaurant reviews in increasingly snappy and flashy ways. We already were using social media to make dining decisions when the pandemic hit, leaving us stuck at home and racking up even more screen time: TikTok had an estimated 850 million active monthly users by the fall of 2020. Cut off from our favorite cocktail bars and unable to huddle with friends in our favorite diner booths, we baked sourdough and made tomato-feta pasta and watched Stanley Tucci mix Negronis, becoming lonely dining voyeurs.
And when the world finally reopened, oh, we were ready. Ready to catch up on all the openings we'd missed. Ready to know about the latest hot spots. Ready to go out and satisfy our voracious online appetites.
Enter The Influencers, here to offer a helping hand—and help themselves, too. Boosted by our pent-up hunger and social-media addictions, online foodies have gone from modest followings to huge ones. Hobbyists have become professionals, some pulling down six-figure incomes. Through popularity and sheer ubiquity, they're shaping how and what we eat, one colorful reel at a time.
As with any gold rush, however, schemers and scammers have also joined the party. Ask just about anyone who runs a restaurant social-media account these days and they'll tell you their DMs are flooded with self-styled content creators looking to "collab," despite some having puny followings and dubious motives. Meanwhile, copious sponcon is blurring the lines between having a take and being on the take. It's often hard to tell when a rave is genuine or paid for.
Of course, all this is happening as the restaurant industry claws itself out of the Covid death spiral. Restaurants navigated shutdowns, layoffs, shortages, mandates, variants, and pivots. Even now, when the dining scene might seem back to normal, many are still struggling with lingering debt, staffing troubles, and inflation. Owners are tired. Exhausted, really.
In this moment of survival and reinvention, restaurants and diners alike are being engulfed by an influencer tidal wave. In the eyes of some, they're enterprising cheerleaders, supporting a dining renaissance with a much-needed marketing push. To others, they're entitled freeloaders chasing clout and comped meals. Their rise is a huge boon for a beleaguered industry—and also a hot freaking mess.
---
---
---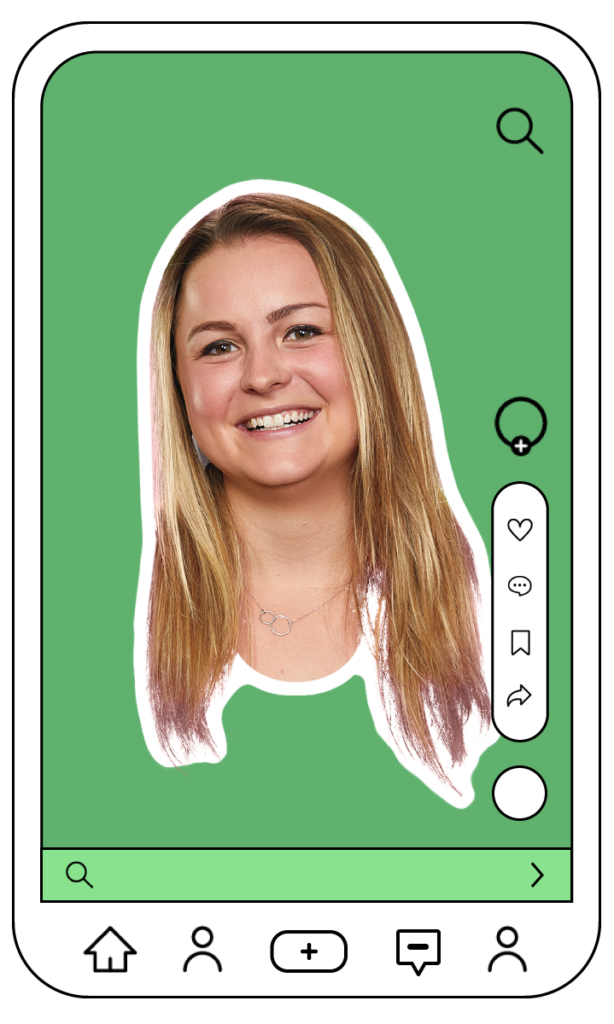 Maddie Smith graduated from Yale and got a job with a big DC real-estate firm as a debt-and-structured-finance analyst. A year and a half later, in the fall of 2021, she put in her two weeks' notice. Her boss asked which competitor she was leaving for. Smith replied she was going to work for herself.
"And they were like, 'Doing what?' " Smith says.
Her boss had no idea she'd been building up an Instagram following as DMVFoodFinds. Smith had grown up in Montgomery County, and her friends were always asking what to do around town, so she started documenting it. When she decided to give up a steady paycheck, a hefty bonus, and a 401(k), she had about 8,000 followers and wasn't yet making enough to cover her living expenses. But she'd saved enough to get by for a year while she tried to make it as a full-time influencer.
Flash-forward, and she has no intention of returning to the corporate world. She says she earned more than $100,000 just last year—more than she was making in her real-estate job.
"I have a lot of friends that are on career paths to make a lot of money," Smith says. "While money isn't the end-all be-all, I knew that to legitimize this, there had to be a pretty good salary associated with it."
I meet Smith for the first time at Butter Me Up, a new cafe off 14th Street with millennial-pink chairs and heart-shaped smoothie bowls. The restaurant has given her a $50 credit to order—and post—whatever she wants from the menu. Smith scrolls through her Instagram DMs, showing me a sampling of the three to five requests a day she gets from restaurants, bars, fitness studios, music venues, and other businesses asking her to come in. There's a promo request for events at the Bullpen. A back-and-forth with the group behind RPM Italian for a holiday campaign. Content coordination with SoulCycle Georgetown, for which she's an ambassador.
"The requests have just been crazy, because everyone's back," Smith says. "And they recognize the importance of influencers now more so than previous to Covid, I think."
Like a beat reporter vying to break news, Smith strives to be the first posting about particular hot spots. She reads through Washington Business Journal and checks building permits to curate lists of restaurants that are coming soon. Then she'll go on runs throughout the city, getting videos of storefronts along the way. "I definitely want the scoop," Smith says. The competition can be fierce.
The idea of turning social media into a job—particularly the filming-your-­dinner variety—was still a novelty five years ago. Today, Instagram and TikTok can be legit professional paths—particularly for a generation that grew up on likes and clicks. Besides, if the pandemic proved anything, it's that few jobs are 100 percent secure. Sure, you could be an Uber driver. Or a debt-and-­structured-finance analyst. Or you could try to be an influencer.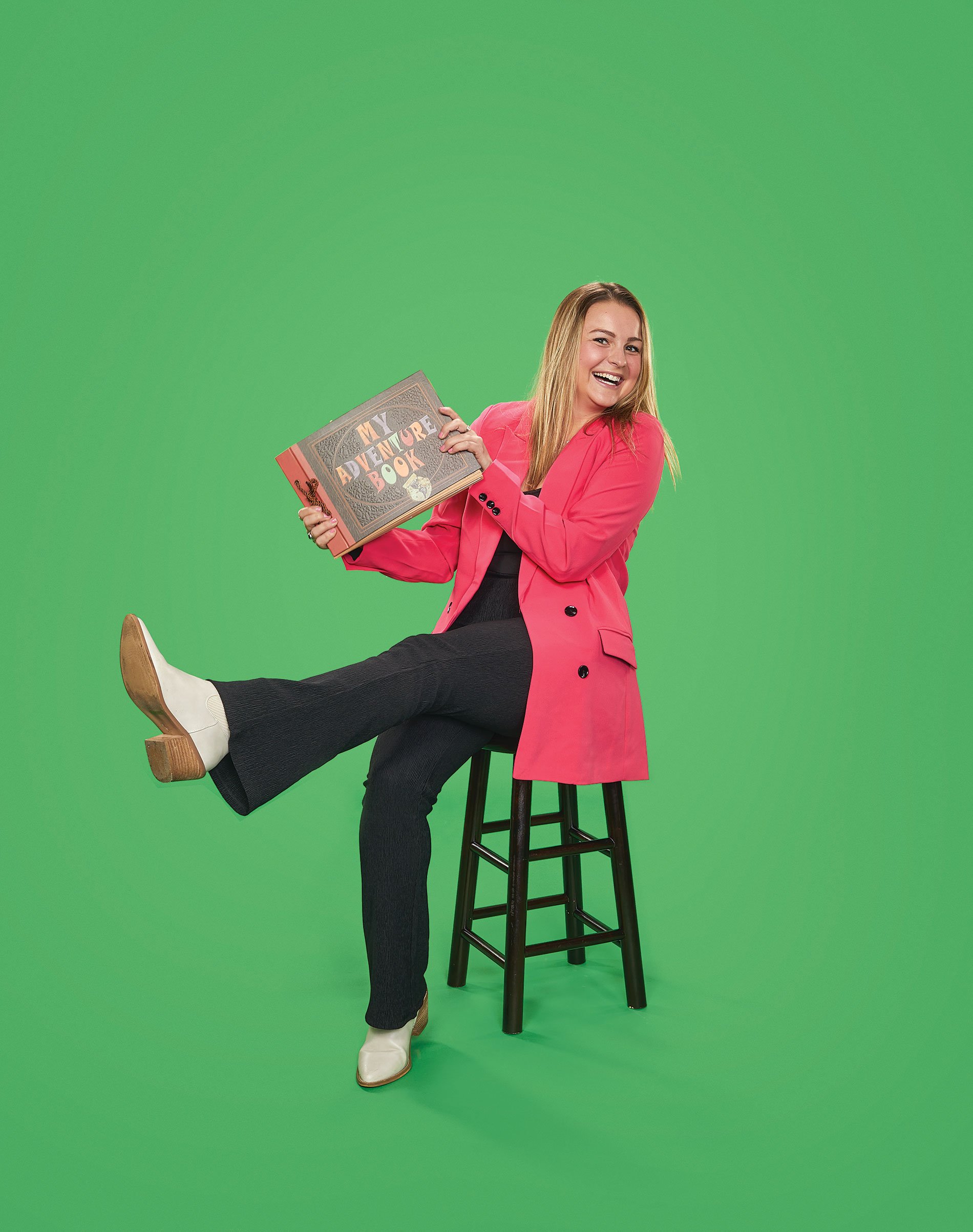 In some ways, it's easier than ever to become one. It doesn't matter if you have 50 followers or 50,000—the slot-machine style of TikTok (and its copycat, Instagram Reels) makes it possible for anyone to blow up at any time. Perhaps more important, it makes it possible for anyone to feel like they could blow up at any time. Plus, the new generation of social-­media strivers isn't like the early Instagrammers you might remember—standing on bistro chairs with their bulky DSLRs and portable LEDs, shooting their avocado toast like a Harry Styles paparazzo to produce magazine-ready images. These days, you don't have to be skilled with a camera. You don't need to know anything about food. Crank out enough content, throw in some algorithm magic, add a dash of shamelessness. Suddenly, you too can have a nice little side hustle—or at least some freebie tater tots.
In the days and weeks after my meet-up with DMVFoodFinds, I start noticing the same heart-shaped bowls again and again in my Instagram feed. It seems Butter Me Up has hit up every influencer in town, or every influencer in town is hitting up the latest #content du jour. There are so, so many of these accounts. It's easy to get lost in the mind-numbing sameness of it all—the same pasta twirls, the same Lizzo hit, the same voice-overs (Hidden gem! You HAVE to check it out! Soooo yummy!). The accounts even have confusingly similar names: DCFoodsters, DC_Foodies, DCFoodGod, DMVFoodGod, DMVFoodieCrew, DMVFooodie—yes, with three o's; that one has more than 86,000 TikTok followers. It's like shopping for wall paint and discovering there are 100 shades of white.
---
---
---
PR and social-media strategist Doug Rashid manages nine local food accounts—from Middle Eastern restaurant Yasmine in Union Market to all-day brunch spot Matt & Tony's in Alexandria. The number of inquiries he gets from influencers and wannabes has tripled since the start of the pandemic. Some of them are highly polished, with media kits and metrics. Then there are messages like this: "Hello love… I would love to share you with my flowers [sic]." Lately, he's also been getting a ton of DMs from influencers who don't live anywhere near DC.
"It's like, 'Excuse me? Your audience is in Vancouver, okay? So where's the benefit for us?,' " Rashid says. "They're lining stuff up around the city to try to get some free meals."
Others don't even bother reaching out. They just show up. After the opening of the Italian restaurant Grazie Nonna in downtown DC last fall, a few people started name-dropping their TikToks to servers during meals, nudging for a comp or freebie. Rashid would get calls from the manager saying, "Sorry to bother you, Doug—we have an influencer here that we're not sure how to handle." Rashid had never encountered these types of situations until the past year—and neither had his clients. "It really throws the staff off," he says. The restaurant now instructs employees to provide Rashid's info to schedule a visit instead.
That's exactly what happened when one Instagrammer showed up at the new downtown fried-chicken spot Little Chicken last fall and asked for a discount code for his followers—fewer than 400 of them. He filmed a tour of the restaurant, glad-handing random customers and staff. In DMs afterward, Rashid tried to be polite, telling the guy he appreciated the plug but the restaurant really only partnered with influencers who had north of 15,000 real followers.
"I understand," the Instagrammer wrote, "though I will say that feels like I'm being placed in a box."
Everyone has war stories. There's the influencer who showed up with three uninvited friends. (Hey, they needed a hand model!) Or the one who arrived really, really late, throwing off the kitchen, which was already in the weeds trying to deal with actual paying guests. During the early days of the pandemic, some influencers "were just acting like Covid didn't exist," says Alex McCoy, chef and owner of the burger-and-fried-chicken joint Lucky Buns. "You'd see restaurants posting about how they're trying to raise funds for their out-of-work employees. And you're talking about going to some doughnut shop with your big smile and 'Look at all the caramel!' "
McCoy recalls one influencer who messaged him in 2021, simply asking to come in and take photos. The guy showed up with some influencer friends during prime time on a Friday night and demanded multiple tables. The group was loud and disruptive, stacking burgers and making a huge mess. "It reminded me of that scene in Zoolander where they're spraying gasoline on each other at the gas station," McCoy says. "There's just cheese everywhere."
At the end of the night, the group wanted to skip the check. As a rule, McCoy doesn't comp or pay influencers. "They tried to make an argument that they shouldn't pay for anything, and that they're doing marketing for us and all this," McCoy says. "I was like, 'I never agreed to that. I just said you can come in and take pictures.' "
"They're lining stuff up around the city to try to get some free meals."
Even though the occasional influencer can be a headache, restaurants feel pressure to play nice—or else. "It's almost like the Sopranos," says a social-­media manager for a large DC-area restaurant group, who asked to remain anonymous because, frankly, he's kind of afraid of some influencers. "You open up a new spot and then you get this message: 'Hey, we're a group of friendly foodies, and we've got a lot of friends who are also foodies who go out all the time. And, uh, if you want, we can come by and taste some of the food and say things about you. Or, you know, we've got a lot of friends.' "
Others aren't so shy about calling out a shakedown. Akina Harada says a woman reached out to her in early 2021 asking about curbside pickup at her downtown Hawaiian poke restaurant, Abunai. But when she arrived, the staff didn't bring out the food. Afterward, she messaged Harada again—this time saying she was a food influencer and her meal should be comped.
"She said 'should be' and I was like, 'Why?' " Harada recalls. "I told her, 'You're a nobody from Loudoun County.' She had, like, 100 followers. I was like, 'I don't care if you're an influencer.' "
The woman posted their interaction publicly. Harada posted about it, too. Internet commenters cheered on Harada. "For the rest of a good two weeks, I kept selling out every day because of that," she says.
---
---
---
For all the horror stories restaurant folks love to tell, the truth is they've bought into the power of influencers in a big way. Harada actually doesn't mind comping them or handing out gift cards that influencers can use for their own giveaways. It's been great for her business. Her poke shop is in a stretch of downtown that became a ghost town during the pandemic. Her toddler's daycare had shut down, so she started posting silly videos with him in the shop. Suddenly, people were coming in. She'd never done formal advertising before, but she hired an influencer to do social-media marketing and bring in other influencers. It cost a fifth of what regular marketing firms were quoting her.
"I know it's crazy to give away so much free food, but I think in the beginning for me, I had to be a destination for someone," Harada says. "Everybody else around me closed."
Rashid, the publicist, hasn't worked on a restaurant opening in the last three to four years that didn't include wining and dining influencers. An actual journalist or critic? You never know what you're going to get. By contrast, many influencers "love a little bit of direction," he says. "They want to show your restaurant or your brand in a positive light." And they can drive real traffic.
Just check out the Instagram reel that Little Chicken commissioned from an account called DC Spot for a few hundred bucks. It was played more than 600,000 times. Precisely quantifying how those views translate into butts in seats is tricky, but Rashid says the impact was undeniable. People were greeting the manager featured in the video like a mini-celeb ("Oh, man! You're the guy from Instagram!"), and sales spiked for specific dishes featured. The restaurant added roughly 2,500 followers to its own account over the next few days.
@dcspot @Kura Sushi is now open in Tysons 🎉 This spot is an innovative and tech interactive Japanese restaurant concept established in 2008 #sponsored You will notice the revolving sushi bar, cute robot bringing around drinks, and fun atmosphere as soon as you walk in 🍣 #dcspot #conveyorbeltsushi #sushilover ♬ B.O.T.A. (Baddest Of Them All) – Eliza Rose & Interplanetary Criminal
So, sure, throw the influencers a free meal. What's a little cash, too? Hungry scrollers are often none the wiser. While creators are legally required to disclose sponsored content in a way that would be obvious to their followers, not all of them comply and many don't comply all the time. That's a problem if you want honest advice on where and what to eat. Or maybe not. Social-media platforms are infused with targeted advertising that blurs the lines between authentic opinions and paid endorsements. Do we really mind when algorithms feed us the perfect green sweater we didn't know we needed? Or when food influencers prioritize what looks good over what tastes good? If you find out about a fun new happy hour, does it matter if a publicist invited a half dozen TikTokers to try it first?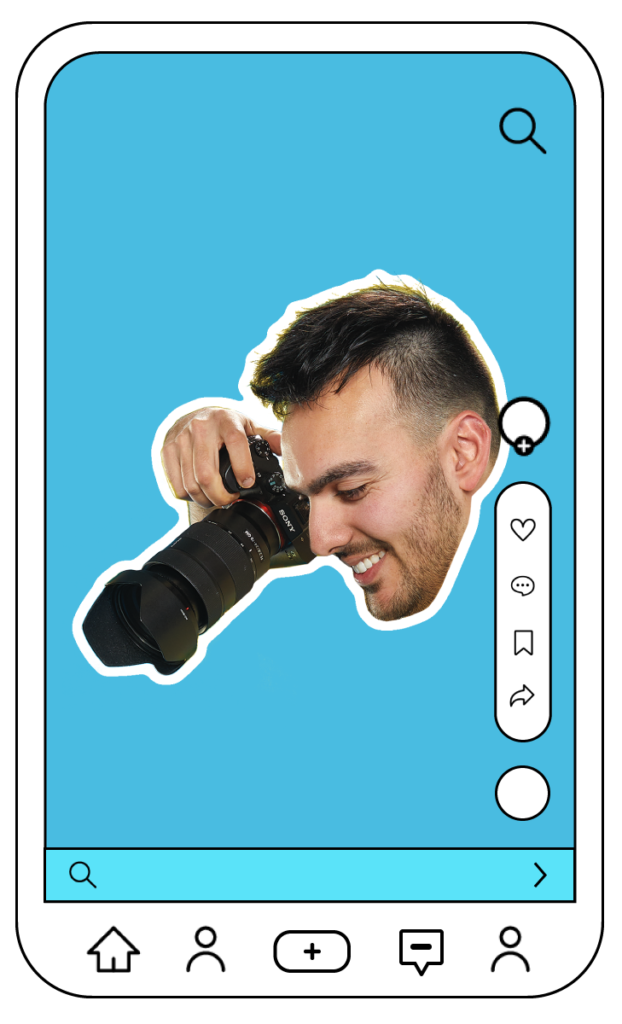 Alex Hussein, the influencer who operates DC Spot, gets plenty of these invites—but showing up usually isn't worth his time unless he gets paid. What started as a video-production gig for a sorority while he was a student at George Mason University has evolved into a social-media company with five part-time employees. The 26-year-old has found no shortage of businesses willing to pay for his content. While he makes a point to highlight small, family-owned eateries pro bono, he'll typically charge restaurants with a marketing budget $650. Bigger brands might pay $1,200 to $3,600 for a single video and some stories. One restaurant has even offered him equity in the company for his social-­media help.
"I don't reach out to restaurants anymore," Hussein says. "I have them reach out to me. And there's at least ten that I haven't gotten back to just because I'm procrastinating, but they're willing to pay my price."
DC Spot typically charges restaurants $650 for posts. Bigger brands might pay $1,200 to $3,600.
The reason he's been putting it off? "One, I'm trying to watch my weight." Two, Hussein has bigger, grander goals. He's trying to launch a business reselling "exotic snacks"—think no-shell Skittles and Korean roast-chicken-flavored Doritos. He's already envisioning TikToks with chefs transforming, say, Thai Oreos into crazy desserts. He also wants to start a coupon subscription service in which his followers will pay $5 to $10 a month to get access to food and drink deals, special events, and exclusive content about local happenings. Already, he's been hosting sold-out cocktail classes. "If it does well in DC, we can expand it to New York, Chicago, LA, and make it this huge thing," he says. I point out that it sounds kind of like Living­Social, the hot startup turned cautionary tale that was the golden child of DC's tech scene before being acquired by Groupon for $0 in 2016.
"I'll have to check them out," Hussein says. "I've never heard of them."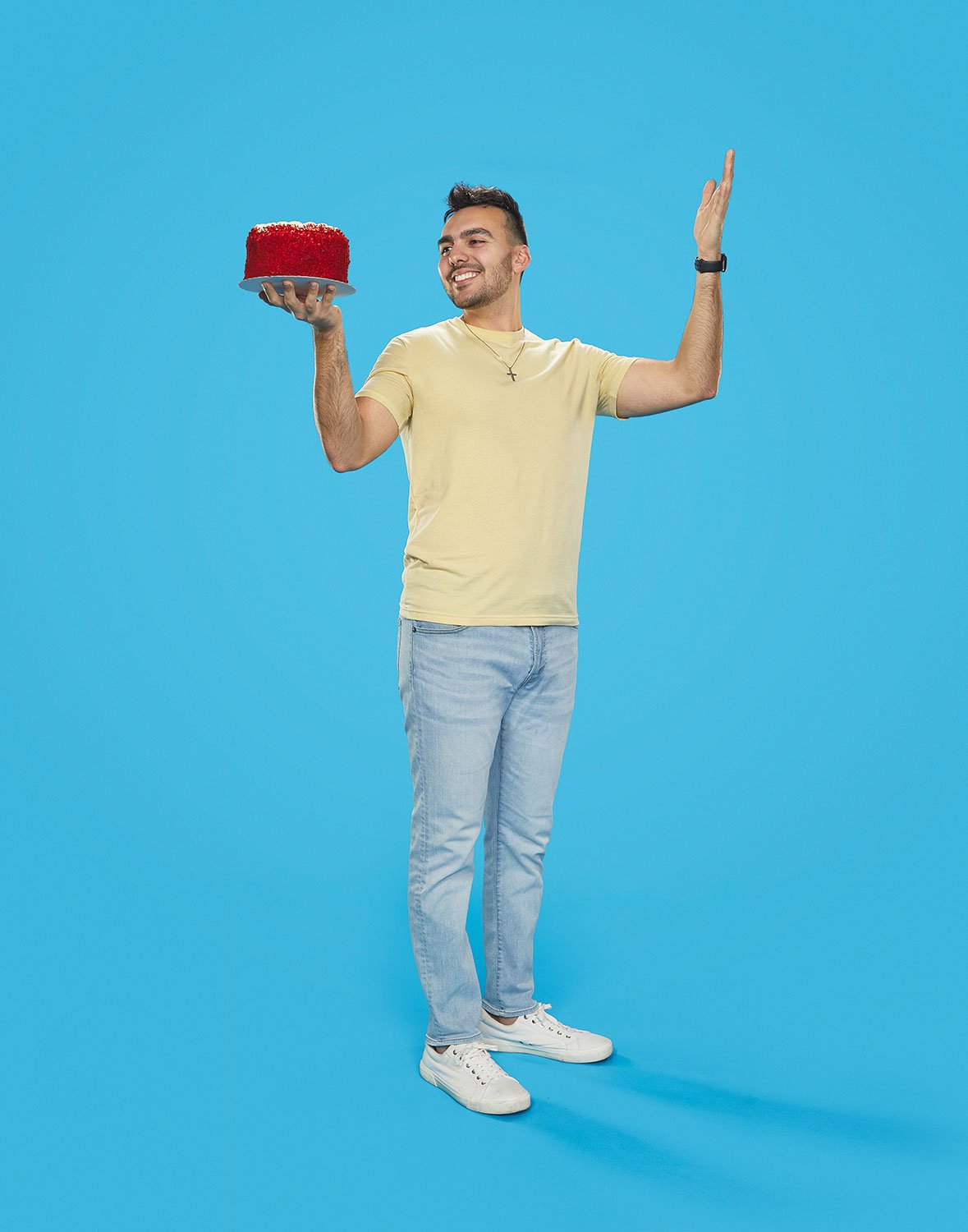 Shrug emoji. Hussein sees the subscription service as a way to turn DC Spot into a lucrative living, which will allow him to do what he really wants and give back to the community. But when he talks about "giving back," what he's thinking is cash stuffed into, say, fast-food bags, handed out to unsuspecting strangers being filmed for more viral content. Or maybe one day he can surprise someone with a car, like social-media giveaway king Mr. Beast.
"You don't need to be a nonprofit to have an impact," he says.
---
Urban Roast was supposed to be a grab-and-go coffee shop catering to downtown lawyers and office workers. Unfortunately, it opened in the spring of 2020—so, yeah, there were no lawyers hanging out in Penn Quarter, or really anyone else. As Christmas approached, the vibe was depressing. Owners and brothers Kamal, Anthony, and Joseph Azzouz added some holiday cheer with a 20-foot Christmas tree, s'mores fire pits, and tons of lights.
Joseph, the baby of the family who'd just graduated with a marketing degree, posted a video of the whimsical decor on TikTok. Suddenly, their phones were blowing up. The brothers decided to reinvent the cafe as an Insta-friendly cocktail bar. You know those trendy selfie walls with the faux grass and sassy quotes lit in neon? Imagine that—on steroids. They spent $60,000 on fake flowers. They rented an entire warehouse and stocked it with giant candy canes and skeletons and beach balls—anything and everything they needed to transform the bar into a fun house for every season and major holiday. They also added espresso-martini flights. TikTokers love espresso martinis.
Today, Urban Roast doesn't rely on influencers. It is the influencer. The business has amassed its own 34,000 Instagram followers and nearly 10,000 on TikTok. "There are some accounts where we're like, 'Well, we'll benefit them more than they'll benefit us,' " Joseph says. On the rare occasions the brothers do work with influencers, they make sure to secure rights to their raw footage. If the video flops, Joseph can re-edit it: "Sometimes I make the video better than them."
Increasingly, restaurants are taking viral power into their own hands, curating every aspect of their menus and decor with social media in mind. What are you even doing if you don't have sexy selfie-ready restrooms? Influencers are shaping restaurant trends, and restaurants are shaping influencer trends—it's hard to know which came first, smoky cocktails or the TikTok­erati sipping them.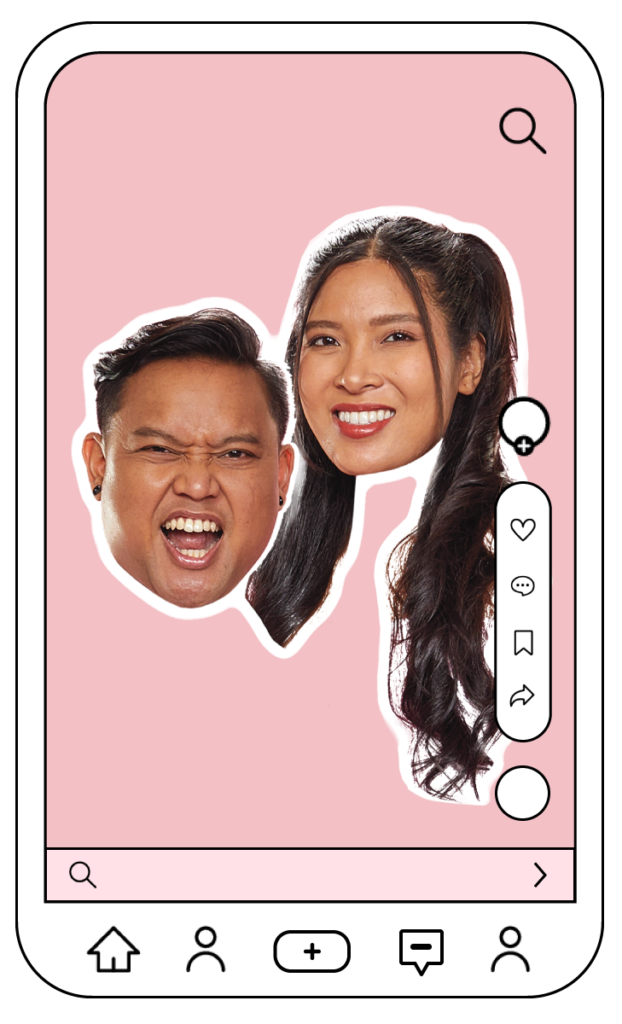 And the lines are getting blurrier. Diana Nguyen and Cham "CK" Keat—the couple behind Hypefoodies—have built a following highlighting under-­the-radar restaurants, particularly mom-and-pop shops in the suburbs. Videos of them slurping ramen or grilling Korean barbecue get them regularly recognized on the street. Keat quit a job tracking packages at an Amazon warehouse in the summer of 2020 to go full-time on their social-media and video promo business, while Nguyen recently gave up her part-time position as a behavior analyst to join him.
In 2021, however, they considered calling it quits. They weren't making enough money but didn't want to feel like they were taking advantage of restaurants, especially during the pandemic. "We made friends with business owners and chefs, and we don't want to charge them, like, $3,000 for a video," Keat says. "We always gave them a budget-friendly price. They're already struggling. At the same time, it [got] to the point where we can't survive ourselves."
Around that time, the owner of PhoWheels food truck reached out: Would they run his Instagram account for him? That's how Hypefoodies got in on a little industry secret: Why collab with a restaurant when you can effectively become the restaurant? Today, the duo quietly manages social media for eight different restaurants—a fact neither side publicly advertises. This type of work turned out to be more lucrative and reliable than brand deals, and it now makes up the bulk of the company's income.
@hypefoodies #marylandeats #mdtiktok #kpot #marylandcheck #mdfoodie #catonvillemd ♬ original sound – Hypefoodies
Hypefoodies isn't alone. Remember DMVFoodFinds? She's the voice behind the Mexican bars Salazar and Mission on Instagram. DC Spot? He posts on behalf of La Vie at the Wharf. These days, influencers are being hit up by other influencers who don't even realize who's who. What was a Wild West is becoming a settled frontier. The cowboys have contracts. And things look a little different from the other side.
When Hypefoodies was getting started, Keat and Nguyen didn't realize that many chefs made fun of influencers sliding into their DMs. But these days—fielding requests from wannabes panning for gold—they can relate. "This person has only, like, 500 followers," Keat says. "I'm like, 'Where do they get the nerve?' People just don't even want to work hard. They just want free food. It makes us cringe inside because they're from our realm. It ties all the way back to the word 'influencer.' I hate it. I hate that word."
This article appears in the March 2023 issue of Washingtonian.
CORRECTION: This story incorrectly stated that Doug Rashid works with Kirby Club. He works with a different Middle Eastern restaurant called Yasmine.

link